DiRT is an off-road rally racing game and is the sixth game in the Colin McRae series of games.
DiRT, known as Colin McRae's DiRT outside of North America, is the sixth Colin McRae rally racing game from Codemasters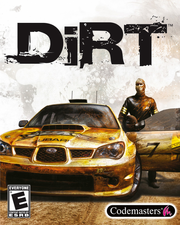 . The game was released in North America on Xbox 360 on June 19, 2007 in America and on June 15, 2007 in Europe, the PS3 version released on September 1st in North America and September 14th in Europe.
DiRT is an off-road oriented racing game that features both the standard rally races from previous games where only the player's car is on the track and they are timed from point to point against 20 other competitors, but also expands further to include many forms of off-road racing styles including CORR racing and Hill Climb events.
Neon Engine
Edit
DiRT uses the Neon Engine, notable in that it was co-developed by Sony Computer Entertainment and is based the PhyreEngine, Sony's free cross-platform engine.
DiRT's primary mode is the career mode.  Progression in the game is tracked by a pyramid, and each tier of the pyramid lists the available events.  The bottom portion, with the most events, are the easiest, with the relative difficulty increasing with higher tiers.  You progress in the career mode by completing events and unlocking new ones as you make your way up the pyramid.  Each event pays in cash which in turn will allow you to purchase new vehicles and liveries for your current ones.
Multiplayer
Edit
The multiplayer portion of DiRT is based off of a match making system.  The player will be placed in a room of other competitors; in the room, the players will vote on which event to race in.  A handful of different events are listed, each event having a designated course and car.  Once an event has been voted for the players are simultaneously connected to the server where each player will race alone.  The top right of the corner, of the screen, has a live tracker displaying the current times of the competitors running closest to you; the driver who completes the leg with the quickest time wins the event
Ad blocker interference detected!
Wikia is a free-to-use site that makes money from advertising. We have a modified experience for viewers using ad blockers

Wikia is not accessible if you've made further modifications. Remove the custom ad blocker rule(s) and the page will load as expected.