Inazuma Eleven is a soccer-themed RPG for the Nintendo DS by way of developer Level-5.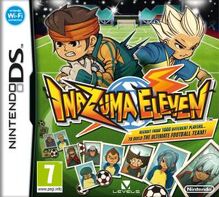 The core gameplay consists of soccer battles. There are two types of battles; in the random battles the games are 4 vs 4 including the goalkeeper and the goal is one of several: score first, steal the ball or don't let the other team score. The second type of battle, which can be seen as boss battles are typical fulltime 11 vs 11 matches and whoever scores the most wins.
Players have stats like FP, TP, Kick, Control and Body which determine how they play during a match. There are also dozens of techniques which can be used during a match including Saves, Kicks, Blocks and Dribbles. 
To control your players you simply draw a line on the bottom screen of the DS to control where your player moves.  To pass the ball just tap on the player you wish to pass to.  When your player is near a player from the opposite team three options will appear.  These translate to jumping with the ball, using a special move and dribbling past the player.  If running towards a player from the opposite team with the ball three options will appear.  These translate to slide tackle, special move and pressure.  When shooting another 3 options will appear.  These are shot, lob and special shot.
A pop idol group known as "Twe'lv" debuted in this game.
ReceptionEdit
Famitsu seemed to have really liked the game, giving it a score of 10/9/9/8(36/40)
Ad blocker interference detected!
Wikia is a free-to-use site that makes money from advertising. We have a modified experience for viewers using ad blockers

Wikia is not accessible if you've made further modifications. Remove the custom ad blocker rule(s) and the page will load as expected.